ONE OF THE NEW TOOLS IN VETERINARY CARE
Laser therapy is one of the best new tools in veterinary care to treat a range of issues. The process involves using a targeted laser to stimulate the body's own natural healing, promoting blood flow and reducing inflammation. It's an entirely non-invasive, inexpensive and non-pharmaceutical option for treating joint pain, wounds, surgical sites and more. Plus, the procedure is entirely painless for your pet. Our patients often relax more in their laser therapy appointments than anywhere else!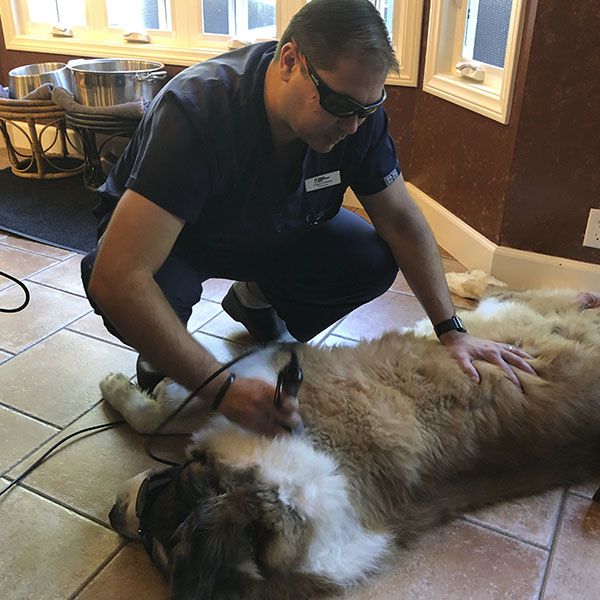 If the veterinarian believes your pet is a good candidate for laser therapy, they may suggest using it alone or together with medications or other topical treatments. Feel free to ask us questions about how the procedure works, what the process is like, and what the potential outcomes could be for your pet. Older animals suffering from osteoarthritis can feel years younger and have more energy with the added mobility. If your pet has recently undergone a serious surgery, transporting them to the vet's office may be difficult and painful for them. Our fully mobile veterinary clinic can bring laser therapy right to your door here in the Los Angeles area. It's a good idea to avoid stressful waiting rooms while your pet is recovering as anxiety can slow healing.

Plus, the added flexibility means that you don't have to constantly rearrange your schedule and rush through traffic to get your pet to the vet for their series of appointments. Our goal is to make keeping your pet healthy and happy as convenient as possible.
FULL SERVICE MOBILE VETERINARY CLINIC
Family Veterinary Inc. is proud to provide animal laser therapy in Los Angeles, Sherman Oaks, Beverly Hills, Encino, Toluca Lake, Burbank, Studio City, North Hollywood, Van Nuys, Hollywood Hills, Pacific Palisades, La Canada Flintridge and the surrounding areas.