FULL SERVICE MOBILE VETERINARY CLINIC
Family Veterinary Inc. is a full service mobile veterinary clinic offering wellness exams for dogs and cats throughout the Los Angeles area. We bring compassionate, experienced care right to your door, saving your family time and unnecessary stress. Our state-of-the-art clinic on wheels offers everything your furry friend needs to stay healthy and happy.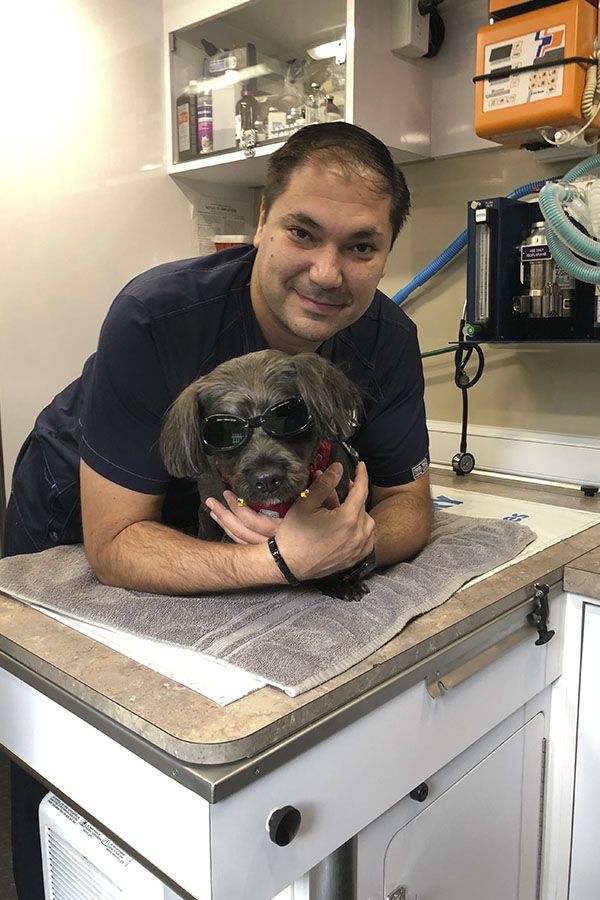 Dr. Shukhman believes that prevention is the key to longstanding health with his patients, and that regular care is a key part of their overall well-being. During each wellness examination, the veterinarian evaluates your pet's condition in a variety of ways. From their ears to toes and their nose to tail, he'll look for early signs of illness and disease. An early and accurate diagnosis is vital for effective -- and often less expensive -- treatment. Certain medical conditions, such as allergies or exposure to irritants, can contribute to a lower quality of life for your pet. Dr. Shukhman can advise pet parents on possible allergens in the home and in food or treats. Vaccinations and deworming at the exam can help prevent a number of diseases, while blood work can tell us more about the inner workings of your pet's major organs.
We pride ourselves on our clean environment for pets with our mobile clinic. Just like how humans can be exposed to germs and infections in a doctor's waiting room, our pets are at risk of disease transmission from other dogs and cats while waiting for their appointment at the clinic. Anxious animals are also susceptible to disease, making a stressful vet clinic a potentially difficult place for immunocompromised animals.
An added benefit of our mobile veterinary clinic is one on one time with Dr. Shukhman. As his only patient at the time of your appointment, he can give your pet his full attention for the full length of the wellness exam. You'll be able to ask questions and receive a comprehensive explanation of your pet's current medical state, treatment options and likely outcomes.
FULL SERVICE MOBILE VETERINARY CLINIC
Family Veterinary Inc. is proud to provide mobile wellness exams for pets in Los Angeles, Sherman Oaks, Beverly Hills, Encino, Toluca Lake, Burbank, Studio City, North Hollywood, Van Nuys, Hollywood Hills, Pacific Palisades, La Canada Flintridge and the surrounding areas.