Mobile Pet Vaccines in Los Angeles: What You Should Know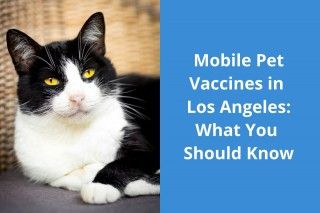 Whether you have a brand-new kitten or puppy or an older pet, having them vaccinated is one of the best and easiest ways to ensure their long-term health. Pet vaccines are highly effective and safeguarding dogs and cats against a wide range of potentially deadly diseases, and the risk of side effects or complications is extremely low. At
Family Veterinary Inc.
, we offer mobile pet vaccines in Los Angeles and would be more than happy to have your pet as our newest patient. 

Vaccines for Dogs and Cats
When you have us vaccinate your pet, we will come to your home instead of requiring you to bring your pet to us. This is, of course, much more convenient for you and less stressful for your furry family member. 
We recommend starting puppies and kittens on vaccination schedules when they are around six to eight weeks old. While pets can be started on vaccines at any time, starting early is the best option for protecting their health. When you contact us, we will go over the differences between core and non-core (also known as lifestyle) vaccinations and help you determine which ones are right for your furry best friend. 
Once your pet has been vaccinated, they will need to receive boosters on a regular basis to ensure that they remain protected. We will provide you with all of the information you need to keep your pet on a consistent schedule. 
Mobile Pet Vaccines in Los Angeles
For mobile pet vaccines in Los Angeles, choose Family Veterinary Inc. We believe in providing customized care for all of our patients and will work closely with you to ensure that your dog or cat's unique needs are met. We will also take the time to address any questions or concerns you may have. To find out more about our mobile vaccine services or to schedule an appointment, please contact us today. 

By accepting you will be accessing a service provided by a third-party external to https://familyveterinaryinc.com/